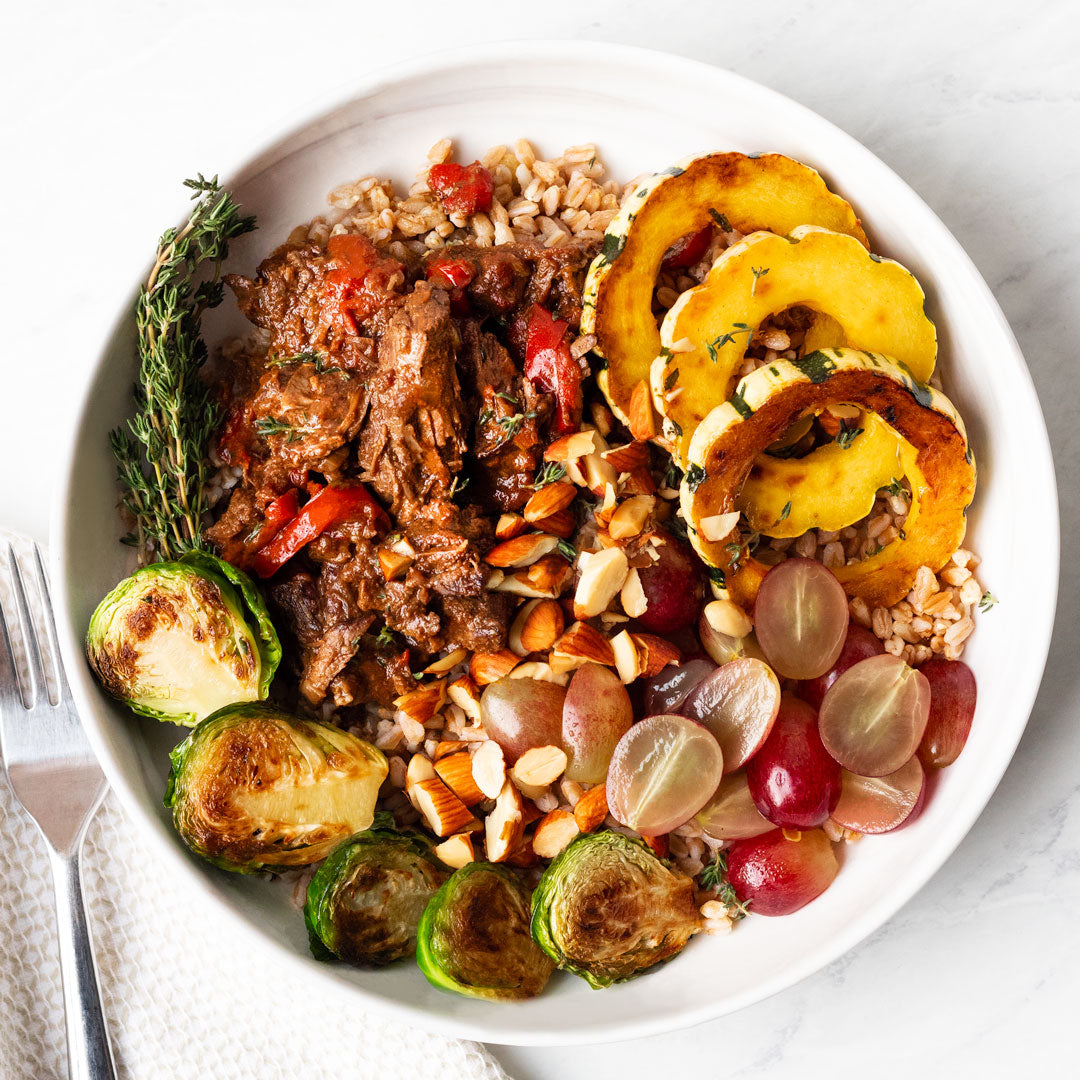 Top 10 Healthy Chuck Roast Recipes
Chuck roast...just saying it makes your mouth water! If you're looking for something warm and hearty for fall, chuck roast is the perfect cut. Eight hours in the slow cooker and you've got yourself one heck of a dinner ahead of you. We've put together some of our favorite healthy chuck roast recipes,  to get the ball rolling.
We love our chuck roast cooked low and slow either in a slow cooker, on the stove top or in the oven at a low temperature. But, some of these recipes will require a longer cooking time so make sure to plan ahead and make sure you have a large pot or slow cooker ready. Not a planner? Don't worry, pressure cookers were invented for you. Well, maybe not, but it's definitely a perk. Our chuck roast will cook in an Instant Pot or other pressure cooker in less than 90 minutes!
Our chuck roast is our most versatile cut. It is perfect for meal prep, for a relaxing Sunday dinner or to feed a hungry family. Whether you are craving a hearty stew, a BBQ sandwich, or a grain bowl, a chuck roast will deliver. It is the perfect cut to keep back stock of in your freezer just in case you forgot to plan dinner one night, the in-laws said they are "dropping by", or the sudden comfort food craving just set in. 
Read more: 12 Meals to Make While you Finish Binge-Watching That New Show
Finally, Featured Chuck Roast Recipes
Below you'll find our top 10 fall chuck roast recipes that we've hand-picked to align with your any healthy lifestyle. Find your favorites, prepare, and enjoy them all season long! Don't forget to tag us @eatpre_ on Instagram and facebook and share your photos, we love to see them!
Keep cozy this fall with a hearty bowl of all your favorite fall foods. The cinnamon and cloves in this recipe will have your kitchen smelling like heaven!

Chili enthusiasts might say we're doing it wrong because this recipe doesn't have beans. But, with rich flavors of chuck roast, bacon, chili powder, and cocoa powder, it's a sure winner.
Your Instant Pot is your superpower and it would be a shame not to use it. Made with homemade chili sauce and paired with cauliflower rice
(or
any grain), this recipe is bursting with flavor.
Don't pull all your pots and pans out for this one. When a multi-pan ordeal isn't on the menu, opt for this delightful medley of chuck roast and green beans on a single sheet.

BBQ beef has never been easier. Just pop that chuck roast in your instant pot, set the timer, and walk away.
A seriously good instant pot dish. Butter leaf lettuce cups stuffed with cauliflower rice, shredded chuck roast, and lime juice puts a unique spin on this semi-new favorite!
Traditional goulash recipe made with potatoes, red pepper, and caraway. But, you can replace your sour cream topping with greek yogurt.

Who wouldn't want nachos for breakfast? Prepare your chuck roast the night before to have this
'breakfast'
ready to go in no time!
Turmeric is great for combating inflammation and makes a delightful addition to this Moroccan inspired fall dish.

No more instant ramen packets! Dive into this flavorful bowl of chuck roast ramen that will warm you to the core on a chilly fall day.
Want to stock up on tasty beef all through fall?