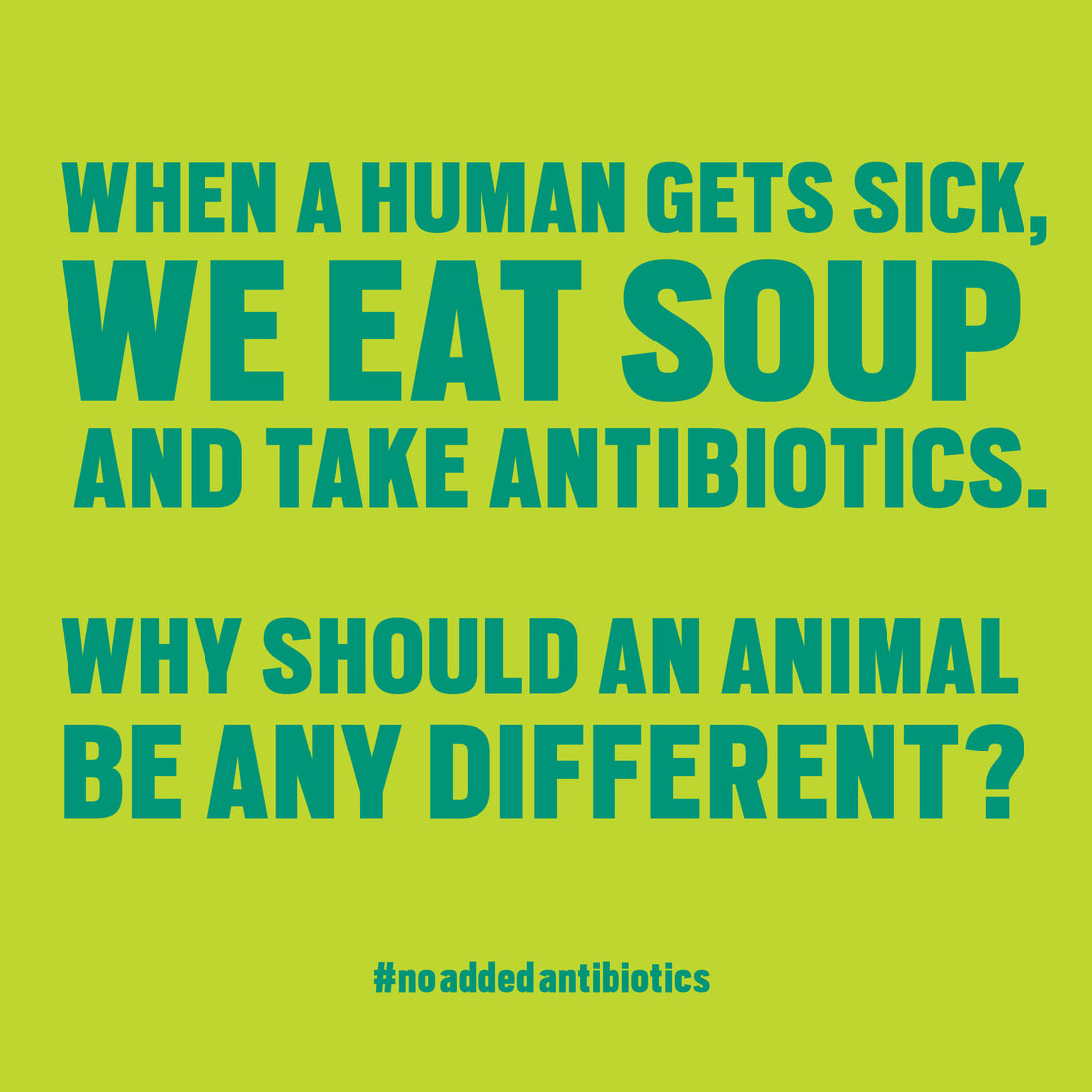 No Added Antibiotics Explained
No Antibiotics added, no antibiotics ever, antibiotic free, no antibiotics administered, raised without antibiotics… these are all labels stamped on chicken, beef, turkey, etc, in the grocery store. 
Here's one piece of knowledge to keep snug in your back pocket; wording matters.

 
"No Antibiotics Ever" and "Antibiotic Free", are labels that tell you that the animals have never been given antibiotics, ever. A study from Translational Animal Science taught us that 70% of people believe that eliminating antibiotics completely when raising animals results in cleaner and healthier animal welfare. "No Antibiotics Ever" and"Antibiotic Free" tell you that the animals have never been given antibiotics. These farms or companies may exclude animals that have been sick, even if they have been properly treated.
At Pre, we believe in controlled and safe use of antibiotics when animals are in need. If an animal is sick, a veterinarian will administer antibiotics and remove the animal from the rest of the herd. When the tested amount of time has gone by and the antibiotics are out of the animal's system, the animal is let back in the herd.

The label we use and trust is "No Added Antibiotics."
One thing to remember is that an animal's living conditions are just as important as antibiotic use. Look for where the animals are being raised around the world. Some places are more equipped than others for year round cattle grazing. We source from cattle raised in New Zealand and Australia where the climate is ideal all year round allowing for fresh, green pastures at all times. Because the cattle are raised in great conditions, sickness and preventative antibiotics are not needed. 
In some areas, feedlots are a common method of raising cattle where climate conditions may not be ideal all year round. Cattle are crowded, eating out of the same troughs, and can easily spread diseases to one another. In this situation, preventative antibiotics may be used in the feed to keep these diseases at bay. 
Bottom line, pay attention to the wording. Antibiotic Free and No Antibiotics Ever mean the animal has never seen an antibiotic. No Added Antibiotics means the animal was treated much like us humans treat ourselves.
If we are sick, we take antibiotics, stay home from work, and enter back into our human herd when we are healthy again. We think this is the way humans and animals should live their lives. 
Watch the full video featuring our Quality Manager, Julie Divis, explain all the meat labels so you can feel good about what you are buying.